Fnm Pilot scale electrospinning (NFL) machine is a polymeric/ceramic nanofibers producer machine in large scale for various applications. Pilot electrospinning machine have 1 to 3 electrspinning units. These machines use deferent mechanisms for electrspinning. In neddle-based models there are array of needles and the polymeric solution injected to the nozzles by syringe pumps, a scan system used to move to nozzles and help homogenous nanofiber mat.
NFL can control the electrospinning parameters and conditions including electrospinner drum and collector rotating speed, working distance, speed of substrate winding, working temperature and operation time. NFL has sufficient safety for users with respect to the handling of a high voltage power supply and chemical solvents. Using this machine, nanofibers can deposit on different substrate in large scale. NFL is widely used for producing nano-filters, nano-facemasks and medical application. Depending on the number of electrospinning units, nanofiber production rate will be about 10-100 meters per hour.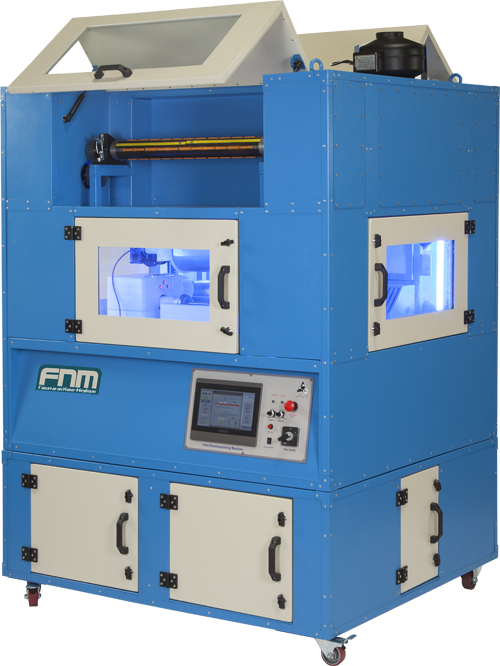 NFL60R
Specification:

Flexibility
Various polymers and composites have the potential to be electrospun.

Different product specifications such as porosity, morphology, diameter, and ability to load beads can be obtained.

The process is easy and economical.

Different polymer types such as synthetic, biodegradable and natural polymers and/or polymer/composite may be processed.
Easy operations and convenient functions:
Control
PLC with HMI interface

easy-to-use
High voltage:
0-35 kV DC, Positive Polarity, precise adjustable

0-35 kV DC, Negative Polarity, precise adjustable

Digital Voltages Monitoring
Spinneret:
Stainless steel drum

Changeable (Cylinder, Disk and wire)

Length: 20, 50 and 100 cm related to the model

Diameter: 6 cm

Rotating speed: 2-10 rpm
Collector:
Stainless steel

Movable (up and down)

Working distance: 5-20 cm

Rotating speed: 50 RPM

Diameter: 8, 16 and 32 cm
Heating system:
Rolling system (NL30R model)
Two speed controllable motors

Suitable to gather flexible substrates like filter, fabrics or paper

Speed controlling from 0 to 150 m/h
Nonvolatile Memory
Ventilation
Others
Power requirements:
200-240 V AC; 50/60Hz; single-phase;

Current: 5, 9 and 12A (NL20, NL50 and NL100)
High voltage safety control
Earth detector
Safety switches
Tehran-Iran