Electroris® is a lab-scale electrospinning machine to prepare polymeric/carbon/ceramic nanofibers with diameter range of 50 nm to a few microns. The machine mainly consists of metallic body, syringe pump, spinneret system, collector system and high voltage power supply.
Two different types of Electroris are available: Standard and dual pump model (Side by Side Electroris).
In side by side Electrospinning system, there are two syringe pumps on both sides of the rotating collector drum, making the system to consist of 2 syringe pumps, 2 scan systems, 2 distance adjusters and 2 high voltage power supplies. Even though the production rate of dual pump model is two times higher compared to the standard one, this is not its main advantage. In these systems two different materials could be electrospun simultaneously. Furthermore, the system makes it possible to electrospin polymeric material from one side and additive materials, such as medications, from the opposite side, producing composite nanofibers containing desired components. Therefore, it is suitable for pharmaceutical, medicinal, biological, etc. applications.
This device employs a panel for controlling electrospinning parameters including injection rate of polymeric solution, electrospinning distance, rotating speed of collector drum, working temperature (room temperature to 45°C) and working time. Electroris® provides excellent safety schemes for the users with respect to the handling of high voltage power supply and chemical solvents.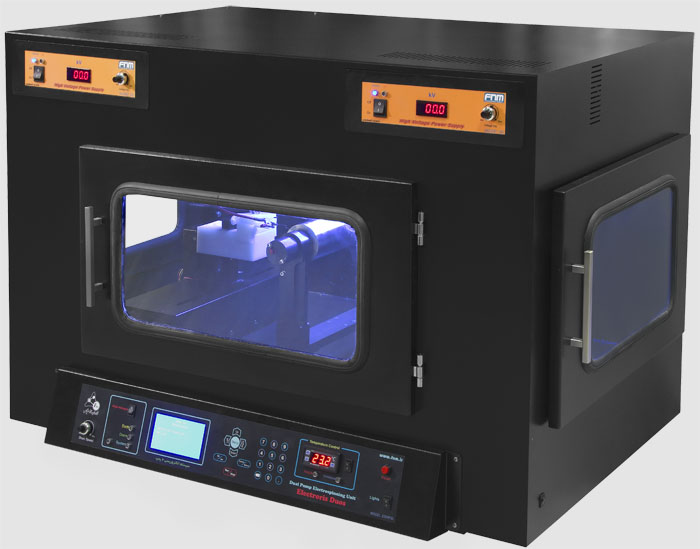 Main Features
Advanced safety features

Reliable performance

Modular design

Bright display and easy-to-use interface

Non-volatile memory

Easy use and maintenance

Dual syringe pump model is available
General

Chassis

Metallic body with 3 doors for easy access

Input power

100-240VAC/50-60 Hz

Ventilation

Motorized fan to remove solvent from the chamber

Heating system

Room temperature up to 45°C

Heater

1000W, 4A

Safety

Voltage cut-off in case of door opening, grounding problem, or process disruption

Dimensions

(L×W×H)

DS:131 × 80 × 96 cm

Weight

ES: ≈100 Kg

Spinneret

No. of attachable needles

1 or 2

Configuration

Horizontal (No need for hose)

Scanning rate

0-30 mm/s

Scanning range

0-30 cm

Syringe pump injection rate

10 µl/h to 500 ml/h

Usable syringe size

1-25 mm (ID)

Operation mode

Constant flow rate and maximum volume disperse

Accessories (optional)

Co-axial nozzle with tubing

For the DS model, two syringe pumps are installed

Collector

Type

Rotating drum

Material

Stainless steel

Rotation speed

0-3000 rpm

Spinning distance

5-20 cm

Size

Drum:8(ř) × 30(L) cm

Plate: 25(L) × 20(W) cm

Optional collectors

Wire, Cylinder, Mandrel and Disk collector

Attachable to negative high voltage power supply up to -20 kV (optional)

High Voltage Power Supply

Model

HV35P OV

Max. output voltage

35 kV

Power

30 Watt

Efficiency

Typically, 80% at full load

Voltage monitoring

Digital, Accuracy: 0.1 kV

Body

Durable metal casing

For the DS model, two power supplies are installed
Operational system and panel:
Bright Display and Easy-To-Use Interface
A big four-line 20 character LCD display along with 20 membrane keys makes this a most attractive but powerful, easy-to-use system. Operational key for each line of LCD cause easy access to sub-systems of Electroris.
Nonvolatile Memory
Dimension:
Weight:
Exhaust Fan:
Others
Metallic body

3 doors in 3 sides
Power requirements:
200-240 V AC, 50/60Hz, single-phase, 5A
High voltage safety
Earth detector
Safety switches
System Check